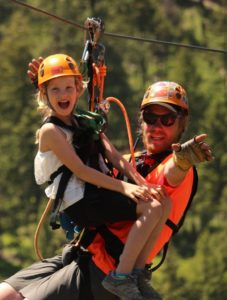 Kids love ZipZone, and we love kids, so we developed a world class system that allows your munchkins to zip safely.
Designed for kids under 70lbs, Little Zippers ride in tandem with one of our professionally trained guides, who give your kids extra care and extra fun.
Our Little Zippers program has set the standard for kid safety and our staff are fully trained in this specialized form of Tandem zipping.
Kids under under 70lbs should not zip solo and they definitely should not zip in tandem with an untrained companion (even if it's Mom or Dad), and that's why we developed the Little Zipper program.
We can only take two Little Zippers per tour, so please call our guest services team to ensure there is room on your tour.